St Michael's plants for the future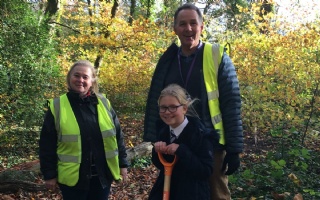 All pupils at St Michael Middle School in Colehill, as part of the 50th Anniversary of the School, celebrated by planting their very own tree.
In phase 1 over 520 saplings were planted by pupils and Parish Councillors under guidance from the Dorset Grounds Maintenance Team led by Daryl Pearce.
The work was completed in a phenomenally efficient 3 hours with pupils thrilled to be planting their own tree. As one child put it 'we are literally saving the planet'.
Cllr Urquhart said it was 'wonderful to see the energy of the young people at St Michael's as they set about improving their local area and investing in the future of the planet at the same time'
The trees, a mix including oak, silver birch, beech and blackthorn were planted in the Triangle Wood opposite the school which many of the pupils walk through daily to get to their lessons. Heateacher Ron Jenkinson was proud of the ethos and work ethic of his students: 'the younger generation understand better than most that more care is needed for our world. They set about the task of planting with the sense of commitment that comes from the belief that they were doing something of lasting worth.
It was a joy to see them taking their parents around the wood the next morning showing family members where their tree was'.