Wizard of Oz Production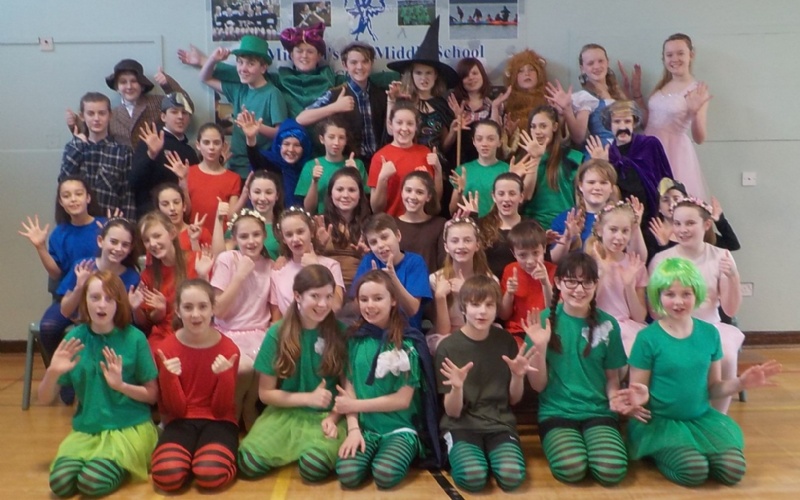 Students from St Michael's Middle School at Colehill wowed audiences when they trod the boards as Dorothy, Tin Man, Scarecrow, Lion and the whole host of characters who make up the magical world of Oz.
They were also joined by their four-legged friend Molly who took on the role of Dorothy's dog Toto.
Their production of The Wizard of Oz was held across two nights at QE School, Wimborne.
"This year's cast and crew did a brilliant job bringing The Wizard of Oz to life and we're incredibly impressed with the talent that was on show."
Headteacher, Ron Jenkinson, said: "Our musical theatre productions are becoming one of the most anticipated events in the school calendar.
"It was great to be able to perform at the QE School once again, with its professional staging and lighting.
The show starred Year 8 student Felicity as Kansas girl Dorothy who, along with her dog Toto, was swept up in a Tornado and transported to the magical world of Oz.
On her quest to get back to Kansas she had to meet the infamous Wizard of Oz, Aidan and defeat the Wicked Witch of the West, Jemima
She was helped on her way by the Good Witch of the North and three new friends – Scarecrow, Kaela, Tin Man, the aptly named Justin and Lion, Floyd. Year. 7 pupil Andrew played the guard to the Emerald City who eventually let them through the gates to meet Oz.
Altogether, 54 children from Years 7 and 8 were involved in the production as either cast or crew and several others were involved in the creation of the set in the lead up to the show.