Eco Club question their member of parliament.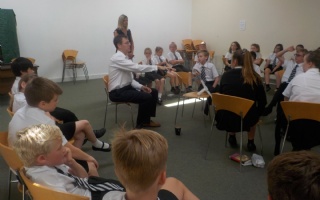 Michael Tomlinson was questioned by St Michael's Eco Club.
On the 8th of July we had our local MP come to visit the Eco group as well as a lucky year 5 class (5M).
It was amazing to talk to him and share our ideas with him too. We learnt some new things about our Parliament- there are 650 members of Parliament. We also found about the seating arrangement in the Houses of Parliament. He said in parliament they are doing their part to stop climate change by making their offices plastic free and placing many fountains all over the building. He personally completed a Lent challenge by not using any single-use plastics. In Parliament recently they had a lobby to persuade people to open their minds to climate change and help stop it happening.
In addition, we carried on talking about how we can change the things we do to save our wonderful planet. Big businesses are moving forwards too, for example we are now making more and more electric cars/lorries/trucks/buses and even trying to make a battery huge enough to fit in an aeroplane. Soon in 2030 Mr Tomlinson told us that there will be no more diesel cars on the roads. Although he also asked us a question, diesel fumes are another problem to consider but is it better then electric? Other businesses are being persuaded as well, Costa and Mc Donald's have taken away plastic straws and replaced them with paper. Michael Tomlinson also prompted us to write letters to local businesses if we don't agree or think there is another way to do something to stop damaging our planet.
Afterwards we talked about what we have done in the past and what we would like to do in the future. We discussed litter picks and how we want to extend this idea to beaches, roads and forests other than just St Michael's and all the ways we can be safe whilst doing it such as using gloves and litter pickers and most importantly having adult supervision. He also recommended a brilliant charity to donate to and help called "For Ocean" – this helps to keep beaches and oceans free. They use the recycled plastic and other materials to make beautiful necklaces.
We had a lovely time talking to Michael Tomlinson and hopefully we`ll have a chance to do it again.
By Lily- Rose Year 7