Tall Ships Youth Trust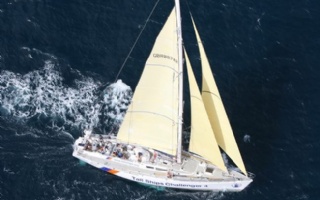 Tall Ships Adventure 2019
First of all, we would like to thank the John Thornton Young Achievers' Foundation for their very generous bursary which enabled our pupils to take part in the fantastic, life-changing experience outlined below.

On Monday 17th June, 2019, the St Michael's 'Crew' - 10 intrepid Year 8 pupils – (along with Mrs Prest and Skittles) - embarked on a five day voyage on a Challenger racing yacht with the Tall Ships Youth Trust. Not knowing where the tides and wind would take us made it quite an adventure! Everyone would be taking their turn at helming (steering) and working as a team to sail, cook and clean the boat.
After watching the vast Queen Elizabeth aircraft carrier sail past us and out of Portsmouth Harbour, our first night was spent at anchor off Sandown, Isle of Wight.
The next morning, the tides and wind were such that we could set sail for France! During our 10 hour crossing, we worked together to hoist sails, took it in turns to helm, experienced some thunder and lightning in the middle of the Channel and saw dolphins! (This was a particular treat for those who were feeling queasy!)
On our arrival at Cherbourg, we enjoyed exploring a new town – indeed 'a new country' to some! Our Skipper ventured out first, to buy us all croissant and pain au chocolat to prove we had arrived in France!
It was fun to practise our French, to use Euros to buy both presents for family and more delicious treats from the boulangerie.
Spending two nights and a whole sunny day in Cherbourg meant that we could explore it more fully, including having fun together at a lovely sandy beach.
The following morning, we woke up to beautiful sunshine and a good breeze. We hoisted three of the sails and set off back to England. Two of the crew kindly made us delicious bacon baps to set us on our way. As France disappeared, we were sailing at about 11 knots, heeling over. It was exciting sailing! Whenever we tacked (turned the direction of the boat), everything in the galley (kitchen) slid across the surfaces or the table and the crew's catching skills were tested! The gimbal stove swung in rhythm with the boat, we could stand up at ridiculous angles and someone almost climbed the galley walls as we were at such an angle! It was great fun! Boiling the kettles for tea and cooking the lunch were testing but hilarious activities in these circumstances!
The crew kept each other's spirits up on the long passage home, with songs and dance routines. It was great to have the First Mate's Bluetooth speaker with us to provide the musical accompaniment.
At last we could see the Isle of Wight and it was an amazing sight to sail up to and round The Needles. We were sailing at speed and it was very exciting. After sailing past Hurst Castle and Osborne House, we berthed at Cowes overnight. Having enjoyed some fun skimming stones at the beach after our long voyage home, we enjoyed our final meal on board, together.
Early the next morning, we set off back to Portsmouth, tired but with a sense of challenges faced and overcome, new skills learnt and new friendships made.