World Book Day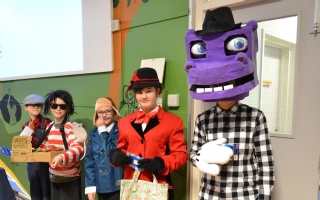 World Book day was celebrated with style and fun.
On the 7th March, hundreds of St Michael's students and teachers celebrated World Book Day by coming to school dressed as their favourite book character, then taking part in book related activities and a book based assembly.
The day was an enormous success and the level of effort put into some of the costumes was breath taking, Mr Grumpy to Oompa Lumpas through Gandalf the White turned the school into a living library. Well done to all that took part!
The staff entered in to the spirit with costumes ranging from Mr Grumpy to pirates and a walking dictionary.
Photos of the day can be viewed here.