Charity Fundraising Fun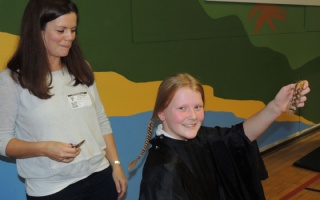 On Monday 17th December the whole school was involved in a charity fund raising afternoon for The Little Princess Trust and the Piam Brown Children and Young Peoples Cancer Ward at Southampton Hospital.
Photos of the afternoon are on the gallery here
The event was four fold!
Firstly all students were able to come to school wearing a Christmas jumper as long as they made a charity donation. We also had 110 students and four staff (including the headteacher!) doing a 4km run (10 laps of the field) for which they collected sponsorship. Although the sky was wonderfully clear for the afternoon the conditions underfoot were very damp making the going hard work. All the students did it though and there was a great sense of camaraderie as they went round.
The next activity involved five students having their haircut so they could donate at least 17cm to
'The Little Princess Trust'; an amazing charity making real hair wigs for children going through cancer treatment.
The courageous and generous individual were: Evie, year 6 and Imogen, Year 8 who both had their hair cut that afternoon in front of 580 students and Caitlin, Kacey and Verity, year 5, who are having their haircut in the new year. Our Hairdresser, Mrs Louisa Higgins also had to cope with the pressure of working in front of an audience and we are very grateful to her. Finally, to top the afternoon off the rest of the students set teachers challenges to perform in front of the whole school including making your colleagues laugh, press ups and who was best at hula hooping!
All funds raised are going to the Piam Brown Children and Young Peoples Cancer Ward at Southampton Hospital.
The event was largely organised by three year 8 students who pestered the Headteacher into action:
Hala, Ambrose and Jabez.
The school expect the final total to exceed £1500.