Flash Day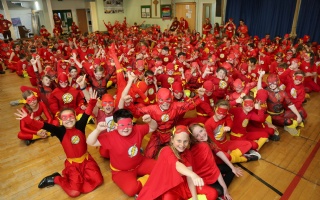 Flash record attempt at St Michael's CE Middle School
St Michael's CE Middle School in Colehill, Wimborne aimed to smash the record for the most people dressed up as a Flash superhero.
The current record stands at 250 and initial figures show that the pupils and staff at St Michael's are set to become world record holders.
Final totting up revealed that 274 Flash superheroes turned up to the Wimborne Academy Trust school.
Headteacher, Ron Jenkinson, said, "I'd like to say thank you to every pupil and member of staff who rose to the challenge and came to school dressed as a Flash superhero.
"This was not only a fun and enjoyable event, but it also showed what you can achieve when you have aspiration, belief and creativity.
"The event was also specially timed to provide our Year 6s with some light relief after completing their SATs. We have submitted our results to the Guinness World of Records and now we just have to wait to find out if we're officially record breakers."
As part of the event, the children and staff formed a human Flash logo in the centre of the school's athletics track. And, each student and staff member dressed as Flash had to have their photo taken and be provided with a unique reference number. Those photos and logs have now been submitted to the Guinness World Records as evidence.
To break the record, Guinness will have to verify that each costume photographed met its strict criteria.
CEO of Wimborne Academy Trust, Liz West, said, "We already know that our schools are filled with superheroes and this just proves it.
"I'd like to say congratulations to everyone at St Michael's and I look forward to seeing their name in the Guinness World Records."