Alice in Wonderland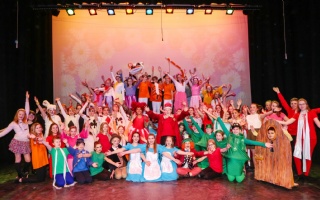 Alice in Wonderland
Audiences went mad for a school production of Alice in Wonderland.

See the gallery for photos
St Michael's CE Middle School in Colehill chose the Lewis Carroll classic for the bi-annual performance staged by its Year 7 and 8 pupils.
A cast of 63 took to the stage at the Layard Theatre in Canford School for a three night run.
They were ably supported by a team of 20 students working behind the scenes as set designers, stagehands, runners, make-up artists and sound and lighting technicians.
Headteacher, Ron Jenkinson, said: "Our bi­annual show is always one of the highlights in our pupils' time at the school. "The work that has gone into this production has been absolutely outstanding and the talent on show was amazing.
"We are incredibly proud of every one who has been involved in putting on such a tremendous show and I'm extremely grateful to my staff who supported our cast and crew all the way."
St Michael's began pulling the show together last autumn.
Pupils attended drama workshops in the lead up to the auditions which took place in October.
Main rehearsals were well underway in the second half of the autumn term.
Taking on the lead role of Alice was shared between three girls. The 'main' Alice was Ella Sweeney while Sarah Helliker and Megan Cobb took on the roles of tall and small Alice respectively.
Aidan Tilling played the Mad Hatter, Gabe Feltham was the March Hare and Antonia Fox played the 'Late' White Rabbit.
Keziah Ibe and Cameron Adkins royally carried off their roles as the Queen and King of Hearts while Connie Vivian, Leila Jones and Apple Toms provided huge grins as the Cheshire Cat.
The St Michael's interpretation of the classic story closely followed the 1951 Disney film version, with well-known songs included.
Their performance would not have been possible without the support of Main Stage Performing Arts, who attended many of the rehearsals to help choreograph key dance numbers