Values Garden Sculpture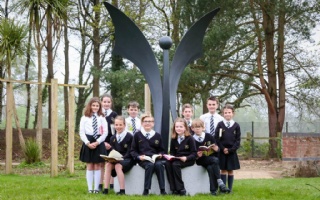 During year 5 activities week we were visited by the sculptor Paul Margetts who will be creating a metal sculpture to display in the school's values garden.
Paul demonstrated blacksmithing techniques and worked with year 5 classes on the design.
The finished work will be approximately 2m tall and will feature a seat beneath it.
Photos from the day are in the gallery on the right.
Sculpture Update
A 'stunning' sculpture of an angel has been installed in a Dorset school as a memorial to one of its former pupils.
The sculpture was commissioned by St Michael's CE Middle School in Wimborne to celebrate its core Christian values.
Also, as part of a legacy to student Sophie Carpenter, who passed away 10 years ago, aged 12, the school has improved the memorial gardens in which the sculpture is situated.
Headteacher, Ron Jenkinson, said: "We are delighted with this stunning sculpture which has provided a wonderful finishing touch to what is now our memorial and values garden.
"We have transformed a neglected space into one that is not only beautiful but also provides a powerful message of remembrance and faith.
"In this sculpture and garden we not only have a lasting memorial for Sophie, who is very fondly remembered, but also an accessible area for our whole community to share in and enjoy."