Round Barrow Interpretation Board Unveiling Ceremony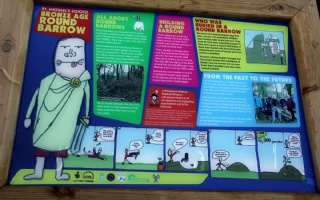 Interpretation Board Unveiling Ceremony on November 28th.
A 4,000-year-old burial mound has been unveiled at Colehill St Michael's Middle School near Wimborne Minster, Dorset.
See the gallery for more photos.
Ancient crafts were demonstrated by members of the Ancient Wessex Network
Councillor Derek Burt unveiled an interpretation board, flanked by Archaeologist Julian Richards, Headteacher Ron Jenkinson and five pupils who had contributed to the project.
The day included ancient crafts such as pottery and smelting, demonstrated by the Ancient Wessex Network, who set up a Bronze Age encampment in the school grounds.
Julian Richards said, "I've been working with the pupils to help to bring back to life a Bronze Age burial mound.
"It's a very prominent mound and sits right on the top of the hill here, so in the Bronze Age times it would have been visible for miles around. It's the burial place of someone important!"
Ron Jenkinson said, "It's an amazing thing to have on the school site, but it was completely hidden and pupils were walking past it, totally unaware.
"It's been brilliant to work with the Wimborne History Festival and other groups to bring it back to life."
Wimborne History Festival Chairman Tracy Cooper said, "We are really pleased with this final project for the 2016 Festival. It's been an amazing privilege to work with Julian Richards, Martin Brown and the five young people that have helped produce this interpretation board.
"It's been a great project and it's so lovely to see it come to fruition!"
Background
During the launch of Wimborne History Festival at St Michael's in 2015, archaeologist Julian Richards talked to the whole school about the Bronze Age and the historic significance of the land that St Michael's sits on. At the time, the burial mound, known as a 'round barrow' was masked by undergrowth.
Julian, joined by volunteers from East Dorset Antiquarian Society, led an intensive period of clearing on and around the monument during winter 2016 and spring 2017. Children from the Forest School also lent a hand, with the support of St Michael's school staff and pupils. Thanks to this hard work, the site is now clearly visible.
Also in 2017, five pupils from Year 5 took part in illustration and archaeology workshops with
'Horrible Histories' illustrator Martin Brown and graphic designer Richard Broadway.
Archaeologist Keith Childs taught the children about their round barrow and the Bronze Age. Pupils produced illustrations for the interpretation board, to help explain the heritage of this ancient monument.
The project was made possible by Heritage Lottery Funding, East Dorset District Council funding and support from Colehill Parish Council.