Maz Evans Author Visit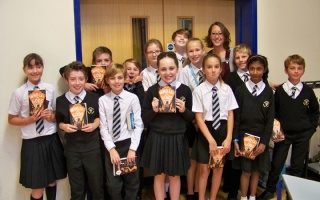 At the beginning of term a small group of year 6 pupils went with the school librarian, Mrs Atkins to Allenbourne school where they listened to a talk by Maz Evans author of Who Let the Gods Out.
Gabriel has written his thoughts on the trip.
It was pure luck that I was one of the few pupils that were chosen to go to Allenbourne to meet Maz Evans the author of Who Let the Gods Out and Simply the Quest.
On the way there we chatted about who she was and what the book was about.
When we got there we discovered she was a person who knew how to make you laugh.
With a bit of silliness she explained that it takes her two years to write a book, she lives in a house near the beach and when she gets frustrated she throws pencils out of the window and if she is lucky she can get them on the beach!
At the end of the talk she signed our books and we had a photo taken with her.