Summer Concert.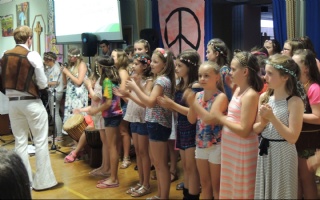 On the 22nd June St Michael's had its Summer Concert.
Children dressed as hippies to celebrate 50 years since the Summer of Love (1967). The music explored the theme of love and showcased the huge variety of music on offer at school from the 40 strong orchestra to some brave soloists performing at grade 5 level and beyond.
The finale featured all 100 performers on stage at once playing One Day Like This by Elbow - even the audience got involved and sung along.