Peter Pan arrives at St Michael's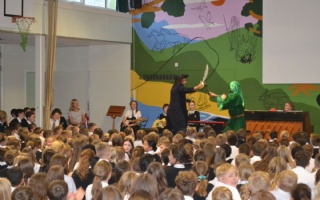 The much anticipated announcement of our next production.
Our next musical extravaganza will be Peter Pan which will again be performed at the Layard Theatre Canford School 26th-28th March 2024 so keep the dates free!
The exciting announcement was made in a whole school assembly last week. The pupils were entertained by two members of staff as Captain Hook and Peter Pan who introduced the show.
Drama workshops and auditions are underway and excitement is building...!