Spirited Art Competition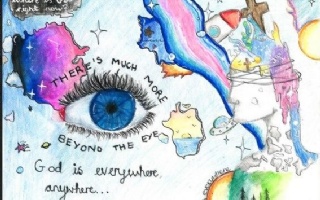 During the summer term, we ran our Spirited Arts Competition, which is also an international competition run by NATRE.
Pupils were asked to create a response to one of the following themes:
1. "We have far more in common with each other than that which divides us."
2. Green faith, green future? ('God's good earth')
3. Where is God today?
4. Faith in action, Values in action
5. Sacred Space and Holy Buildings
6. "All God's Creatures?"
The entries we received were very impressive and covered a variety of the themes. After careful deliberation we decided to have a KS2 and a KS3 winner
KS3 Winner
KS3 winner - Martha W and Izzy H 7W
Where is God today? Our artwork shows that God is wherever you think, wherever you are and He is the thoughts coming out of someone. He is anywhere you could imagine. We have shown God as 3 in 1 - the trinity (God the Father, God the Son, God the Holy Spirit). We wanted to show that there is much more beyond the eye - we can't see God but he's here. He's in the oceans, the galaxies and the islands in the middle of nowhere.
KS2 Winner
KS2 winner - Georgie H 5F
We can make this world a better place! What we have all done to the world has unsettled the environment. We have littered, destroyed, burned fossil fuels. It's not ok but we can make this world a better place. So come on, help make it a world of peace!