French Trip Update (Day 4)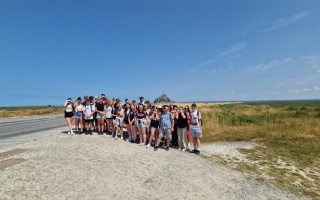 A very busy day and lots of tired children (and teachers).
We had an early start to the day to be able to fit in the long drive to Mont Saint Michel. We started the day at the caramel factory seeing the candies being made and enjoying the free samples that went down well. This afternoon we went to the stunning setting of Mont Saint Michel where we walked the long causeway to the Mount, climbed up to the monastery at the top and had a look around the buildings. The children then had some free time to do some shopping on the way back down. This evening we enjoyed a lovely final dinner before some free time and the task of packing for the return journey tomorrow.
---
---