French Trip Update (Day Two)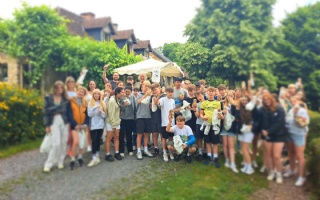 We have had a busy second day on the French Trip. This morning, we visit a boulangarie and made our own French baguette which we ate for lunch.
After an early breakfast, we made our way to the Boulangerie Les Copains where Eric, our host, taught the pupils all about the process of making Sourdough bread by hand. A very messy couple of hours! Then we ventured back North towards Arromanche where we watched a 20min film in the 360degree cinema and headed down into the town where Mr Ayling gave a historical talk about Mulberry Harbour. Pupils had some free time in afternoon to go around the town and most of us had a jumbo sized ice cream Some heavy rain meant limited time outside at the Chateau in the evening so Madame Paton prepared the children for the French they would be needing in the market visit on Wednesday and we followed that with a quiz with the winning team being the Kamakazee Pigeons! Now off to bed for some well needed rest.