Year 8 AUB Visit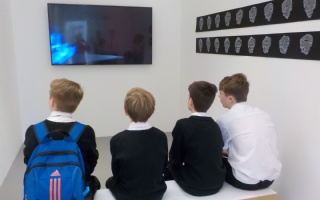 On Wednesday 14 June some year 8 pupils visited the Arts University Bournemouth Summer Show
https://aub.ac.uk/news/industry-news/campus-summer-shows-2017/
Below are some accounts of the time they had there.
See the gallery for more photographs.
Elliott year 8

Today we visited the Arts University and looked around the campus… my favourite part had to be the costumes.
Each one had a personal twist that made each one amazing, the amount of detail that went into each one was crazy.
I was already thinking of doing an art GCSE and this has made me definitely want to do it.
Amelia. Year 8
Today we visited AUB to get an understanding of what university was like and what the art courses involve.
We visited: Fine Arts, Model Making, Fashion, Illustration, Architecture, Textiles, Costume, and Interior design.
This was a very interesting trip and I enjoyed every minute of it. My favourite part was interior design, it made me realise how much happens at university and how amazing the final products are.
I had a brilliant day.

Finley Year 8
Today we went to the Arts University Bournemouth and I was amazed by the incredible artwork on display.
I particularly enjoyed the illustration and graphic design section, the artwork was phenomenal.
I have been inspired by the work and am considering art as a topic to pursue.
I had a great time and would like to do something similar again.
Joe year 8
The trip today gave me a good idea of what a university is like, it made me begin to consider my GCSE choices and my general future.
The artwork was not only amazing but inspiring as well and opened my eyes to a huge range of possibilities