Year 7 Holne Park Residential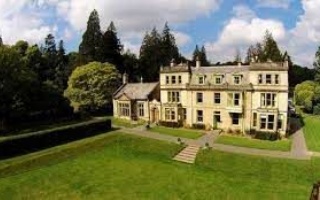 Year 7 had a fabulous time on the Holne Park Residential week in Devon.
They threw themselves in the wholeheartedly putting themselves out of their comfort zone, enjoying new challenges and forging new friendships.
Update: Friday 12th May 9am
What a fabulous day. The sun shone, the children loved all of their activities and a massive manhunt this evening to find staff ended a perfect day for all. Reflections have been written sharing how well the groups have gelled together led by vibrant and enthusiastic instructors from CRS Adventures. Some tears before bedtime BUT from those that want to stay longer (staff included).
Last day tomorrow and home for a well deserved sleep.
Update: Thursday 11th May 9am
A full on day with no rain and lots of fun up on the high ropes, down in the caves, building towers from crates, zip wires and fun raft building, canoeing, and kayaking. The children continue to take up the challenges and thrive in this fabulous outdoor environment.
Looking forward to Day 4!
Update: Wednesday 10th May 9am
A full on second day with only one big down pour in the afternoon and no storms as in other parts of Devon. The instructors and children charged around the Park and all scheduled activities were completed with enthusiasm and good humour despite the soggy ground. We managed to build a campfire for the evening activities and the photographs from Day 2 reflected what a fantastic time we all enjoyed.
Day 3 is looking drier and possibly a bit of sunshine - we're off now for another massive full breakfast and a great day ahead.
Update: Tuesday 9th May 10am
We've all woken up to sunshine to start our second day. Our group of enthusiastic pupils were already up by 7 am preparing for dorm inspection, they're all cheerful and excited! A day on and off The Park with our first group of cavers and rock climbers going off site. Off for breakfast and kids retrieving their soggy clothes from the already stinky drying room, for wet activities and fun on the lakes.
Update: Monday 8th May 3pm
After a very wet journey to The River Dart Country Park, we all arrived safely and have enjoyed a hearty lunch, unpacked, had the welcome talk, met all of the Holne Park staff and have gone for the Round Robin fun activities. We'll probably get wet and muddy but are all excited to have a tour of this fabulous park. What a great way to start our adventures.